Hearing Care Services
When it comes to the health of your auditory system, there are a number of different tests or services you may need to keep everything in good working order. Whether you need help selecting the right hearing aids or custom earplugs, the professionals at Concepts in Hearing are equipped and knowledgeable when it comes to meeting your needs.
Hearing Tests
Hearing Testing and Evaluations
Choosing the right hearing aid starts with a clear understanding of your unique hearing loss needs. Our advanced testing procedures accurately identify whether or not you have hearing loss and measure the type and severity.
Scheduled and performed by a licensed and experienced hearing healthcare professional. These evaluations may be covered by insurance, but discuss with your provider to learn more.
More on Diagnostic Audiologic Evaluation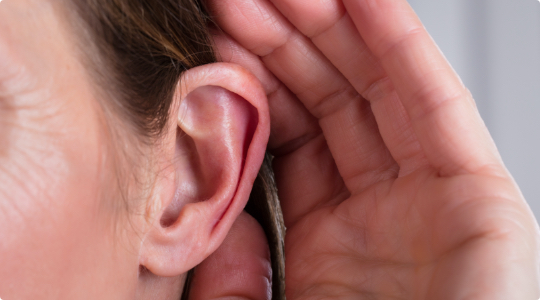 Online Hearing Test
Think You Might Have Hearing Loss?
Take our free, 5-minute online test to get a better understanding of your hearing health. It can determine if a professional screening is right for you.
Our Process
Finding the Perfect Match.
Hearing loss looks different for everyone, and as a result, there are a number of hearing aid varieties on the market. Through careful evaluations and custom fittings, we'll help you find the best device for your hearing loss needs.
Hearing Aid Services
We Service Your Devices
From hearing aid screening, selection and fittings, to ongoing maintenance and repairs – we offer a wide range of services to keep your hearing aids performing their best.
Everyone experiences hearing loss differently. As such, there are many different types of hearing aids and accessories available on the market. At Concepts in Hearing, we work with our patients to evaluate their hearing loss, lifestyle and budgetary needs to find the hearing aid that works the best.
More on Evaluation for Hearing Aids
Choosing a hearing aid is only one step in your hearing aid journey. After your hearing evaluation and selection, the audiologists at Concepts in Hearing will ensure the hearing aids you've chosen fit right and provide the maximum benefits. During an appointment fitting, your audiologist will evaluate your hearing aids, fit them and provide any fine-tuning or adjustments to ensure you can hear more clearly and that the hearing aids fit comfortably.
More on Hearing Aid Dispensing and Fitting
Although today's hearing aids are more advanced than ever before, they're still capable of sustaining damage. Even the most careful individuals might find their devices break or stop working. Our patients at Concepts in Hearing can rest with the peace of mind knowing that a simple phone call to our office will get them in the direction toward repaired hearing aids. Our audiologists and specialists will work to fix the problem in office but, if the repair is more demanding, we will work with our hearing aid manufacturers to get your repairs expedited.
More on Hearing Aid Repair and Maintenance
Live speech mapping is a cutting-edge technology that uses highly advanced equipment to evaluate and fit patients for hearing aids with more efficiency and accuracy than traditional methods. The equipment enables our audiologists to 'see' what their patients are hearing in real time, enabling them to fine tune your devices with incredible precision.
More on Live Speech Mapping